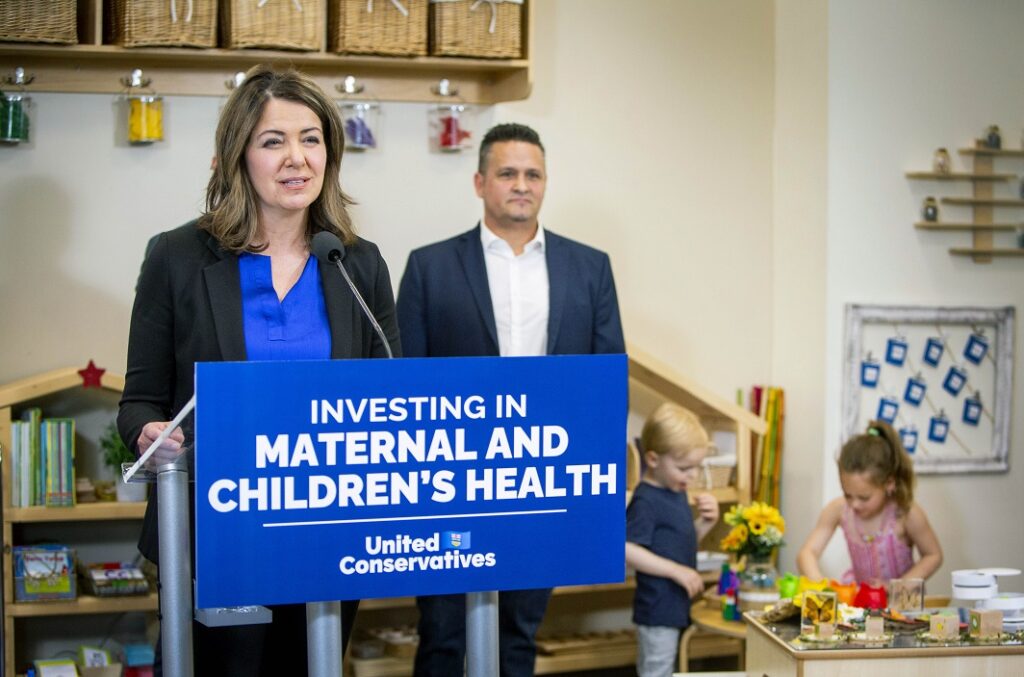 (May 13, 2023) — Today, Danielle Smith, Leader of the United Conservative Party, announced that a re-elected UCP government will improve health care for Alberta women and children through a series of significant investments.

"Women and children can have special health needs that need to be met if we're going to improve health outcomes. Whether it's increasing funding for obstetrics and midwifery, working to expand newborn screening, or supporting important research, today's announcement will help more Albertans lead healthier lives," remarked United Conservative Leader Danielle Smith.

Newborn screenings are so important because the sooner a child is diagnosed, the sooner life-saving treatments can begin. Alberta already leads the country with newborn screening for 22 conditions automatically scanned at birth. If re-elected, a UCP government will fund a review by Alberta Health Services to determine whether five additional diseases and conditions should be added:
congenital cytomegalovirus, a common congenital infection;
argininosuccinic aciduria, a rare genetic disorder;
guanidinoacetate methyltransferase deficiency, an inherited disease that affects the brain and muscles;
mucopolysaccharidosis type 1, a rare, multisystem genetic disorder; and
3-hydroxy-3-methylglutaryl-CoA lyase, a rare, inherited enzyme disorder
A re-elected UCP government will fund screenings for all added conditions.

"The contribution newborn screening makes to improved health outcomes can't be stressed enough. Early detection, diagnosis, and intervention can prevent death or disability and enable children to reach their full potential. This investment will ensure more newborns get the best possible start in life," said Smith.

A re-elected UCP government, in addition to investments made in Budget 2023, will also provide additional funding for testing, educational supports, and programs for children with autism and other complex needs and disabilities, including new funding for wraparound supports integrating community, education, and health care.

To support expecting mothers and newborns, the UCP will also hire more obstetricians for communities in need. The UCP will also provide more choice and access to care by developing a Province-Wide Midwifery Strategy that will include more funding for midwife positions, which will help reduce the pressure on obstetrics, ERs, and primary care as well as help fill gaps in rural Alberta and Indigenous communities.

Doctors, midwives, and nurses will also be eligible for the UCP's recently announced Alberta is Calling Signing Bonus and Graduate Retention Tax Credit, a move that will help attract and retain more practitioners for pregnant women across Alberta.

Better women's health outcomes begin with better women's health research. A re-elected UCP government will provide a $10-million legacy grant to the Alberta Women's Health Foundation, which supports the work of the Women and Children's Health Research Institute. Affiliated with Alberta Health Services, the University of Alberta, and the Stollery Children's Hospital Foundation, the institute works to build capacity, catalyze research innovation and excellence, and develop evidence-informed practices, policies, and protocols in women's health care across the province.

The grant will:
fund cervical cancer, heart disease, and other women's health research as well as recruit top researchers to the province;
improve clinical care by expanding the Allard Hereditary Breast and Ovarian Cancer Clinic and implementing fetal heart rate monitoring in rural hospitals; and
support advocacy and awareness efforts, including national campaigns and women's health empowerment initiatives.
In government, the United Conservatives worked to repair and rebuild Alberta's public health care system. The UCP government struck an historic $25-billion funding agreement with the federal government and made other investments in Budget 2023 to improve access to our publicly funded health care system. Budget 2023 made historic investments in Alberta's public health care system and the changes made in the Health Care Action Plan saw has led to markedly-improved EMS response times because of a change to how patients are transferred. That means ambulances are no longer piled up at our hospitals and are getting back on the road sooner.

Under the United Conservative government, Alberta has seen the largest recruitment of nurses in provincial history. In April alone, Alberta added over 1,400 new internationally trained nurses. That's more than two-and-a-half times the total number of internally trained nurses recruited over the past four years combined. The UCP will continue recruiting and improving the credentialing process to attract thousands of more nurses, doctors and other healthcare professionals.

Smith contrasted the UCP's approach to that of the NDP, whose tax hikes and reckless spending will undermine the government's ability to fund the health care system. She also dispelled unfounded NDP smears.

"I want to be crystal clear," Smith said. "Under a UCP government, no Albertan will ever have to pay out-of-pocket to see their family doctor or get the medical treatment they need. The only card Albertans will need to access health care is their health card. Any NDP attack to the contrary is irresponsible and utterly false. As their record demonstrates, Rachel Notley and her party will push away businesses, jobs, and investment with their spendthrift policies and this will lead to less government revenue to pay for the world-class, publicly funded health care system Albertans care so deeply about and deserve."

Supporting Quotes:

"The Alberta Women's Health Foundation supports and fundraises for women's health research and researchers, advocating and amplifying awareness for women's health which improves clinical care in our public health system. A legacy grant of $10M by the Alberta Government would serve to accelerate our work, help us achieve results faster – and ultimately, improve clinical care outcomes across our province for the women and girls who call Alberta home."
Sharlene Rutherford, President and CEO Royal Alexandra Hospital Foundation
Marita Obst, President, Alberta Association of Midwives
"We are pleased to continue our partnership with Alberta Health Services. The implementation of a province-wide midwifery strategy would enhance the quality of care for birthing families, providing them with the freedom to choose their preferred birthing options while being fiscally responsible to Albertans.""As an advocate for the many people in my life and profession living with a wide range of disabilities, including Autism, I can say this level of support is much needed and welcomed. As the rate of Autism continues to increase, promoting inclusion is more important than ever. This support for children with Autism is a breath of fresh air and will help move the needle for parents and those supporting children with Autism."
Earl Thiessen, Executive Director, Oxford House Foundation of Canada
Jessica Janzen Olstad, Co-Fouder, Love for Lewiston Foundation
"It is this commitment to health care that will change lives for Albertan families. The work the UPC Government is committing to doing is incredible and with 5 new diseases being added to Newborn Screening we can feel confident that they are prioritizing and taking the future of our health seriously."
Backgrounder and Frequently Asked Questions
Today's announcements reflects the United Conservative Party's broader vision for a stronger, healthier Alberta, where every Albertan has access to high-quality public health care wherever and whenever they need it.
We are investing in the long-term wellbeing of Albertans by expanding preventative medicine which will reduce the need for dangerous and costly interventions down the road.
Last year, the UCP government reduced the recommended age for breast cancer mammograms from 50 to 45. This made Alberta the first province in the country to do so and will allow approximately 12,000 more screenings for women between the ages of 45 and 49 this year. "By being more proactive in our screening efforts, we can make a real difference in the lives of Albertans." – Alberta Breast Cancer Screening Clinical Practice Guideline Committee https://www.albertahealthservices.ca/news/Page16912.aspx#:~:text=The%20recommended%20age%20for%20biennial,lowered%20to%2045%20from%2050
Today's announcement will help supplement the many important initiatives that we supported through budget 2023 including expanding pediatric beds in children's hospitals, creating more spaces in our universities for doctors and nurses and expanding our health care system capacity.
Could you provide additional details on how the grant for the Alberta Women's Health Foundation will be allocated? Are there specific research areas or projects that will be prioritized?
This grant will support the development of a wide range of practices and polices that will support women's health care across our province.
Of the $10 million, $6 million will be specifically earmarked for research. Some of the top priorities will include research into cervical cancer, women's heart health and increasing global talent recruitment.
$2 million will go toward advocacy and awareness which will include national awareness campaigns, women's health empowerment and collaborations with the government of Alberta.
The remaining $2 million will be dedicated to clinical care. Some of the specific initiatives that will be supported through these funds will be the expansion of the Allard HBOC Clinic, implementing fetal heart rate monitoring in rural hospitals, a dedicated women's heart health program, and expanded models of care in Indigenous Cultural Partnership programs.

Regarding the supports for children with autism, what types of support services will be included? Will this be an expansion of existing services or will it cover new services as well?
As a part of Budget 2023, we increased funding for the Family Support for Children with Disabilities Fund by $30 million. These funds went towards testing, educational supports and programs for children with autism and other complex needs and disabilities, including wraparound supports that integrated community, education and health care supports.
The services that are provided through the FSCD are tailored to the unique needs of the child and family and incorporates the parents' vision for their child's future. The program provides a wide range of services including respite services, health related supports, childcare supports such as aide in a daycare for work related childcare, behavioural and developmental supports and specialized services for children with severe disabilities.
As a part of today's announcement, we will be providing an additional $5m to further enhance these services, increase capacity and provide quicker access for the families that rely on them.

Are there any specific targets or goals that you are trying to achieve with the Province-Wide Midwifery Strategy? How do you plan to reach these goals?
More women are choosing to use the services of a midwife every year. The primary goal of the Province-Wide Midwifery Strategy will be to remove barriers, increase support services and allow women to have more control over where and how they birth. Midwives play an important role in reducing the pressure on obstetrics, ERs and primary care, especially in rural Alberta.
In addition to hiring more obstetrics doctors, we will be providing $20 million over two years to develop this strategy, hire more midwives, and increase services across the province.
The Alberta Association of Midwives has called for this province-wide strategy and we will be working closely with them to ensure we are able to make the greatest impact.
This initiative will be particularly important for those living in rural and mid-size communities where there is reduced access to Ob/Gyns. We're also focusing on growing the number of Indigenous midwives so that more care can take place right in Indigenous communities.
Today's announcement is part of our wider strategy to improve access and the capacity of our primary healthcare system for all Albertans.

Can you provide a timeline for the implementation of these initiatives? When can Albertans expect to see the benefits of these enhancements to children's and women's health care?
We will implement this immediately, with as much as is practical beginning this fiscal year.
Can you provide more details on the expansion of newborn disease screening? Why were those 5 conditions chosen?
Alberta currently leads the country with 22 conditions being scanned at birth and today's announcement will ensure that we continue to have the most extensive screening in the country. There is some variation between provinces though, and these remaining 5 conditions are either being screened or under review in other provinces.
Alberta Health Services is currently considering expanding tests for the following conditions and we will fund the review of the following:
Congenital citomegalovirus, a common congenital infection
Argininosuccinic aciduria, a rare genetic disorder
Guanidinoacetate methyltransferase deficiency, an inherited disease that affects the brain and muscles
Mucopolysaccharidosis type 1, a rare, multisystem genetic disorder
3-hydroxy-3-methylglutaryl-CoA lyase, a rare, inherited enzyme disorder
A re-elected UCP government will fund screenings for all added conditions.

These conditions are some of the most common and/or severe ailments that we aren't already screening for. For example, congenital cytomegalovirus (CMV) affects roughly one in 200 babies born in Canada and can lead to hearing and vision loss and cognitive disability.
https://www.ctvnews.ca/health/father-pushing-manitoba-to-follow-ontario-saskatchewan-in-screening-for-cmv-1.6251137